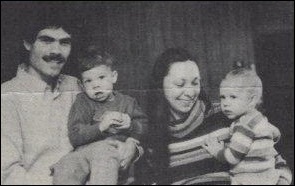 Honeystix - A Success Story
Written by MARSHALL DUNHAM in 1988, revised 2009
"I've always loved honey," says Glenn Peters of Salem Oregon, inventor of Honeystix, a hermetically sealed, micro-package of cold-processed, full flavor honey.
Honeystix have been enthusiastically received everywhere they have been marketed. On some candy counters in convenience stores, Honeystix have outsold chewing gum. Honeystix are being sold in health food stores, supermarkets, restaurants, roadside produce stands, high school and college bookstores, snack bars in ski lodges, resort stores and health clubs. Honeystix proved to be so popular in Yellowstone Park that the vendors there are having them packed under their own label.
Honeystix have been called "Candy of the Future" by the 1986 World Trade Exposition in Vancouver, B.C. The National Aeronautics and Space Administration has called Honeystix "Zero-Gravity Candy" and may be stocking them on future space flights. Honeystix were taken on the 1988 Mount Everest Expedition and they are being considered as the official "Candy of the Special Olympics" by the National Special Olympic Committee.
The popularity of Honeystix is growing rapidly as the product receives national and international exposure. Honey producers from the Pennsylvania Dutch to the New Zealand kiwis want to have their honey micro-packaged in Honeystix. Honey producers find that Honeystix sell quickly at 25-35 cents each. They also realize their honey is getting the credit it deserves and they want more of their produce packed as this revolutionary candy concept.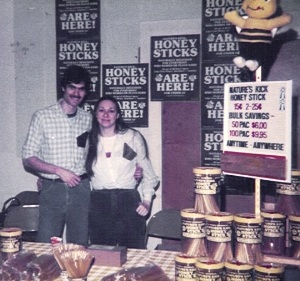 (Glenn and his wife Kim)



The success of Honeystix has been neither quick nor easy. Back in 1980, Glenn Peters was the youngest commercial beekeeper in Oregon with a few thousand pounds of prize winning gourmet honey. He wanted to start a delivery route in a local neighborhood and he knew from direct marketing experiences at fair booths that if he could get people to taste his honey, they'd buy it. Even people who said they didn't like honey changed their minds after sampling his delicious, cold-processed, all-natural Oregon gourmet honey. Glenn knew he could start a honey route in the area he wanted if he could just find a way to give everyone a free sample of his honey.
"The smallest commercially available container was the honey bear," he recalls. He couldn't give everybody a honey bear and he didn't want to go door-to-door offering tastes out of a honey bear. "No one was making a micro-package for small amounts of honey," Glenn says. Seeing the need for such an invention, he began thinking up a good new idea. One day in 1980, he thought of putting a taste of honey in a clear plastic tube and sealing the ends.
The search for the right kind of tubing lasted into the next year. Glenn looked everywhere for a material that met his needs and couldn't find what he wanted. He had almost abandoned the idea, when he ordered a soft drink in a Salem Oregon movie theater, took an unwrapped straw from the dispenser, and was delighted to find exactly the kind of package material he'd searched so long for. When he left the theater, he took a handful of straws and the supplier's name. A week later, working with simple tools and crude techniques, Glenn filled and sealed his first Honeystick.
"Honey is difficult to work with. Stickiness was the most challenging hurdle," Glenn says. But he stuck to the job, turning out 500 stix by hand after getting his first carton of straws.
Glenn put his 500 Honeystix in 500 plastic bags with a flyer he had designed and written, then hung a bag on every doorknob in the target neighborhood. Soon his phone was ringing and he had his honey route, right where he wanted it.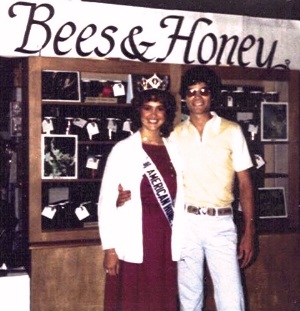 Several customers asked for more of those straws with the honey in them because they were so convenient and fun to eat. Glenn realized that his free samples might be a product. He made up another 250 by hand and took them to a holiday gift fair, calling them "Nummy Nectars." His supply sold out in eight hours. Most customers turned out to be children who, after their first Nummy Nectar, kept dragging their parents back to the booth and begging for another "honey stick." Glenn tried at first to explain that they were Nummy Nectars, but several children pointed out that any fool could plainly see that it was honey in those sticks. Glenn realized his customers were right and the product has been called Honeystix ever since.
When Glenn figured up the proceeds from the sales, he found that he had sold a quart of honey in Honeystix for $25.00. His first reaction was that it might be unethical to make that much money from a quart of honey, but realized he was selling convenience to the customer, which he earned through the inconvenience of making the package.
The spare bedroom of his apartment became a research and development lab as Glenn began building a machine to produce Honeystix.
"I had to build the machine from the ground up. No one anywhere made the kind of parts I needed, so I had to make everything from scratch, and a vivid imagination. Most of the things I've tried hadn't worked. It is a simple idea but it gets very complex in practice and even more difficult when you attempt mass production."
On Dec 23, 1982, Glenn was delivering honey on his route, when a customer invited him for a warm drink. At that time she introduced him to her daughter. "We talked a long time and I was late finishing my route that day". Glenn recalls, "We had a wonderful conversation about what I was developing. When I went home that night, I worked late on the prototype and got something to work. The first Honeystix machine was assembled the same day I met my future wife."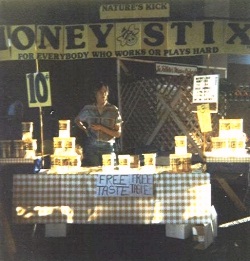 When the prototype experimental machine became operational, Glenn had to get it and his spare bedroom licensed as a food processing facility. The inspector had never seen anything like it and was reluctant to set any precedents, but was apparently impressed with the ingenious contraption and the determination and enthusiasm of the young inventor, and granted the license. There were a few distractions in the years ahead when the inventor had to find time to get married, move to a mobile home, get the spare bedroom of the mobile home licensed, and somehow earn a living at the same time.
"It was like in the movie "Close Encounters of the Third Kind" when the guy made the mountain in his living room, only I was building a Honeystix machine in the bedroom. I was concerned that some big corporation would see what a good idea it was and take it. I didn't have time to work my bees so I sold everything and put the money into paying bills and producing Honeystix for test marketing. There were times when we almost went on welfare and times when I felt I needed to quit, but by then, I had invested too much to be able to give up."
After some much needed breakthroughs in 1984, the second generation of Honeystix machine went on line and mass production began at a rate of 2,000 stix per hour. Glenn began test marketing with candy distributers, who seemed to think that honey could only sell in health food stores. When candy vendors were persuaded to try Honeystix in convenience markets, they found that Honeystix outsold chewing gum in some locations.
Mass production required larger facilities and help in packaging the finished Honeystix for retail sales. Honeystix moved from the spare bedroom of the family home to the Rockwest Training Center in the industrial area of Salem. Glenn set up, licensed, and ran the Honeystix-II machine while handicapped workers were trained to do the retail packaging. Honeystix soon became the largest and most popular employer in the workshop, partly because the handicapped helpers were so proud to see their product on the shelves of local stores, and partly because they were rewarded with Honeystix to sweeten their workdays.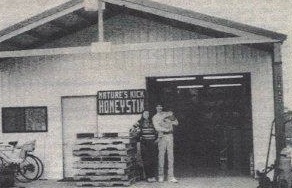 By 1985, Glenn didn't have to convince candy brokers that Honeystix was a candy product. Customers everywhere were asking for more Honeystix. Glenn worked hard to meet the demand and worked overtime building the Super Honeystix third generation machine. In 1986, the Honeystix-III machine was licensed and went on line, filling and sealing over 10,000 Honeystix per hour. The one-millionth honey stick was sold that year and the enterprise outgrew the facilities at Rockwest (little did he know that by 2009, nearly one billion would be sold). With a machine requiring apx. 500 square feet of floor space, and plans for more machines, Glenn realized he was going to have to build a factory and named it Nature's Kick Honeystix.
The world's first Honeystix factory was a modest wood frame and metal, concrete floored structure that stood next to the family mobile home, where two young sons had taken over that spare bedroom (the original mini-factory). By late 1987, the new factory had turned out it's ten-millionth honey stick and Glenn Peters had stopped worrying about the competition. With patents pending and additional machines in the works, Nature's Kick Corporation is clearly the world leader in micro-packaged liquid honey. The most significant advance in product enhancement was made by another Oregonian, Dick Turanski of Glorybee Natural Sweeteners in Eugene. Dick had the idea of adding natural flavors to turn the basic honey stick into several new and different products. By adding lemon, cinnamon, licorice, or mint flavoring to drums of honey, and having Nature's Kick pack this recipe into color-striped coded straws (yellow, red, black, green), Mr. Turanski had pioneered a product that is even more competitive on the candy counters of convenience stores where only countless tons of flavored refined sugar were once sold.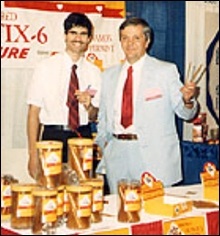 (Glenn on the Left Dick Turanski on the Right)
Glenn has received some tempting offers for his marvelous machines, "but it would be like selling a dream." Looking back then over seven years of living the Honeystix dream, Glenn realized that perhaps one day these Machines will be as popular as Honeystix are today."
Article from the December 1988 publication Gleanings in Bee Culture – Page 690. Marshall Dunham, among other activities, keeps bees and edits the Oregon Beeline, in Blodgett, Oregon.